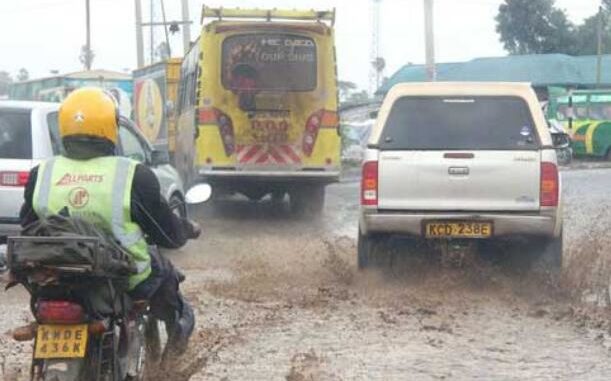 A man died while two others escaped death when their car was swept away by flood waters in Samburu County on Wednesday.
The vehicle was swept away when River Ewaso Nyiro burst its banks in Samburu East Sub-County.
County Commissioner Wilfred Kinyua said the three were on their way to Camp Simba, a British Army training base, when the incident occurred.
ARMYWORM
"Rescue teams saved two occupants in the vehicle. Unfortunately, one died," Mr Kinyua said.
The body was taken to Isiolo County Referral Hospital mortuary.
Meanwhile, the rains have also disrupted maize harvesting, deepening fears of poor yields after the recent fall armyworm invasion.
Agriculture Cabinet Secretary Willy Bett said the estimated post-harvest losses stood at 20 per cent of the total projected if the rains continue.
"It will be disastrous for the country if the grain is not handled well after harvesting," Mr Bett said.
Ordinarily, harvesting starts from mid-October and ends in late January.
POOR ROADS
"It is a challenge that will have a huge impact on the country's food security. I have visited our grain baskets and seen the losses our farmers are witnessing. Maize is rotting on farms," the minister said.
Maize is Kenya's staple food but smallholder farmers lose up to a quarter of the grain produced every year to the weevil, grain stock borer and other pests.
Post-harvest losses also come about due to inadequate storage facilities, poor roads and refrigeration, according to the Food and Agriculture Organisation.
Mr Bett spoke at Kilimo House in Nairobi when his ministry received Sh50 million from FAO to help in the fight against the fall armyworm invasion.
The CS said Kenya lost six to seven million bags of maize in the last season due to the invasion of the pest, complicating an already worsening food security situation after a prolonged drought.
CARGO
"By any standards, it is a substantial loss that would have been worse were it not for the efforts the government put in place," Mr Bett said.
To bridge the deficit, the government is on course with the maize subsidy plan.
Four ships with 1.1 million bags are stuck at Mombasa port due to congestion. The minister said one ship was unloading its cargo.
"There is congestion because we only have one grain handling facility at the port. We have dedicated one berth to maize imports and another for wheat. Once all ships are offloaded, the subsidy programme will end," the minister added.
FAO country representative Gabriel Rugalema said surveillance kits would be used in areas not invaded by the worm.
The fall armyworm was first detected in Central and Western Africa early last year.