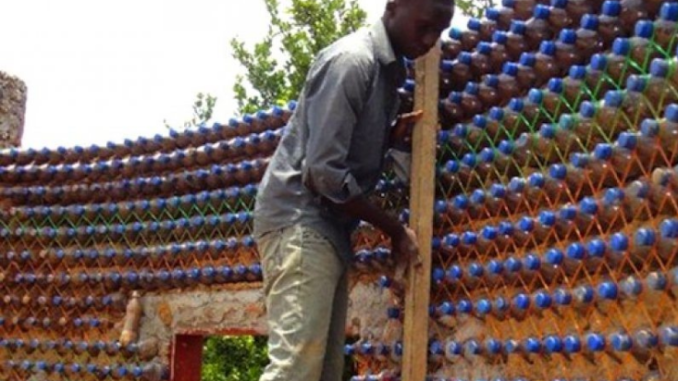 In an attempt to fight the menace of plastic waste and also bridge the housing deficit gap in Ghana, a young man in his thirties has come out with an innovation to build houses using plastic bottles. The new innovation is 33-percent cheaper than the traditional form of building a house and 20 times stronger than concrete, according to the inventor.
The menace of plastic waste has been a challenge in Ghana and the absence of plastic bottle recycling plant in the country has worsened the situation. The plastic, which ends up in some major drains in the country, causes flooding in some areas whenever it rains. The inability of plastic waste to decompose also makes it unfriendly to the environment. To help the country solve its plastic waste threat, Paul Coffie Bebobru, founder of ToaHouse has come out with an innovation to add value to plastic bottles by using it to build house. The plastic bottles replace the use of cement blocks and bricks.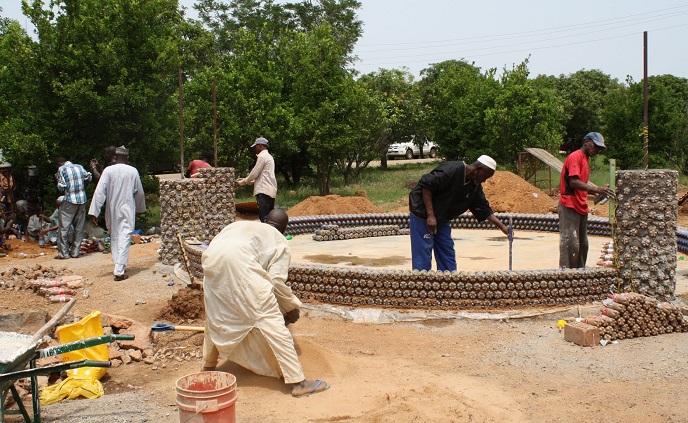 A group of women fill the plastic bottles with sand before masons use clay or mortar to arrange the bottles to be firm just like it is done in the case of block laying. Paul Coffie said the innovation makes the houses earthquake resistant, well insulated, fire and bullet proof, and energy self-sufficient.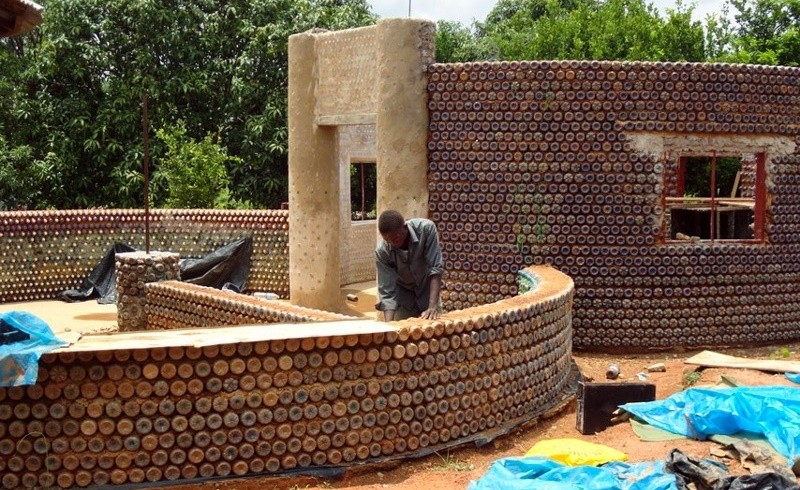 "This innovation is about 33 percent cheaper as compared to the traditional form of building. Studies and experiments have been done in this innovation and the finding is that, this type of building is 20 times stronger than the block and brisk building," he said Also, statistics show that Ghana is faced with a housing deficit of between 1.7 million to 2 million units. The innovation, which is cost-effective, is expected to bridge the housing deficit in the country. "Findings from our research on climate economy has shown that, 6 out of 10 people in Ghana are living in the urban centres and this has further increased the housing deficit in the country. So we decided that since plastic can be used in building, which is eco-friendly and affordable, why not bring the innovation to the doorstep of Ghanaians to provide them a decent and affordable shelter" Coffie said.
A mother of one, Akosua Dufie, has been employed together with her friends to fill the bottles with sand. Each of them is being paid 40 pesewas for filling a bottle. She said the innovation has created livelihood for them and called on the government to adopt the innovation. A 2-bedroom house with hall, kitchen, toilet and bath, and porch will cost between GHc 30,000 and GHc 40,000 with this innovation. Paul Coffie has already built some houses in Accra and Kumasi using this innovation. He wishes to extend it in other parts of the country soon. He said their aim is to provide affordable houses to the masses.
Source:Pocket News