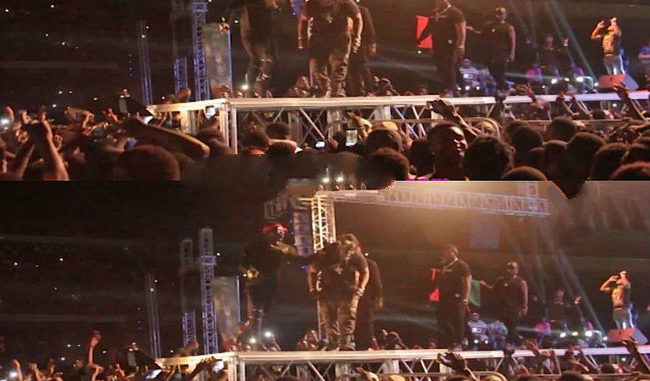 Everybody had fun at this year's S Concert which took place at Ohene Djan Sports Stadium on December 1 but one man who "probably" didn't have fun was Shatta Wale's Bodyguard.
Shatta Wale who performed at the S-Concert slapped his bodyguard for trying to protect him from his "over-excited" fan who climbed on to the stage to touch his leg.
The Bodyguard's Mask fell off after the BiG slap…he jumped off stage few minutes after receiving the slap.
Watch the Video Below:
The bodyguard who got slapped by Shatta Wale, biggie sparta finally spoken about the slap he received from the SM Boss two days later.
According to the bodyguard, people will not understand the love he has for Shatta Wale and that even if he slaps him severally, he will continue to be loyal to Shatta Wale.
He indicated that he will be with Shatta Wale until his life is over and he will never sell out his boss saying "if Shatta Wale has slapped me is it your ears?".
He indicated that it was just a stunt to give bloggers and the entire country something to talk about and they have achieved their aim.
Shatta Wale slapped Biggie Sparta while he was performing on Friday. The slap generated loads of discussions with people calling for an apology for the bodyguard from Shatta Wale. Source: Pocket News