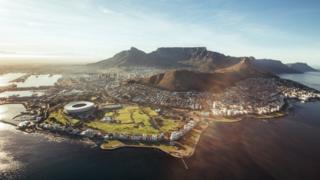 Cape Town, home to Table Mountain, African penguins, sunshine and sea, is a world-renowned tourist destination. But it could also become famous for being the first major city in the world to run out of water.
Most recent projections suggest the its water could run out as early as March. The crisis has been caused by three years of very low rainfall, coupled with increasing consumption by a growing population.
The local government is racing to address the situation, with desalination plants to make sea water drinkable, groundwater collection projects, and water recycling programmes.
For example, French company CityTaps is on a mission to streamline water access in urban homes with its smart water meters linked to an internet-based management system.
The company is first targeting poor homes in urban areas and its system, CTSuite, is currently being trialled in Niger.
Users buy "water credits" via their mobile phones and a smart meter dispenses only as much water as has been paid for. Users receive alerts when their credit balance gets low, and if they don't top up the account, the meter automatically switches off the flow.
e via the internet. A sudden spike in water outflow and a change in pressure, measured by "internet of things" sensors, can then help identify leaks across the network.
"The internet of things offers new avenues for technological innovation in the water field, mostly by providing real-time data that – we hope – can be used to help utilities become ever more efficient and high-performing," says Gregoire Landel, chief executive of CityTaps.
Better water management also helps save on the electricity and chemicals required to produce drinkable water.
Meanwhile, other companies are using technology to harvest water from new sources.
US-based WaterSeer, for example, is developing a device capable of collecting water from the air.
An internal fan draws air into an underground collection chamber where the vapour condenses, making use of the earth's cooler temperatures. Solar or electricity grid-powered coolers also help the condensation process.
The company says water can be produced with "less than a 100 watts" of electricity – the power requirement of an old-fashioned light bulb.
"Individuals and businesses will pave the way for innovative solutions, as they will be able to move and adopt a series of them quicker than large utilities that are sometimes mired in regulatory constraints and rigid decision-making cultures," says Nancy Curtis, a founding partner of WaterSeer.
"However, utilities offer the opportunity to make large-scale impacts on replenishing depleting water supplies."
A number of water-restricted municipalities in the US are exploring how WaterSeer devices could be used to improve water security, the company says. But the device is still being tested in the field, so these are early days.
"A community of 500 would save 40 million US gallons (150m litres; 33m gallons) of water or more each year, reducing stress on traditional surface and underground sources," argues Ms Curtis.
Technology may have its place in helping us use water more efficiently, but it is unlikely to have much impact on those without any access to water in the first place, says Alexandros Makarigakis of Unesco's international hydrological programme (IHP).
"Smart water systems cannot be expected to have much impact regarding provision of access for the unconnected. [They] are more effective in the urban context," he says.
This is echoed by Vincent Casey, senior manager at the charity WaterAid.