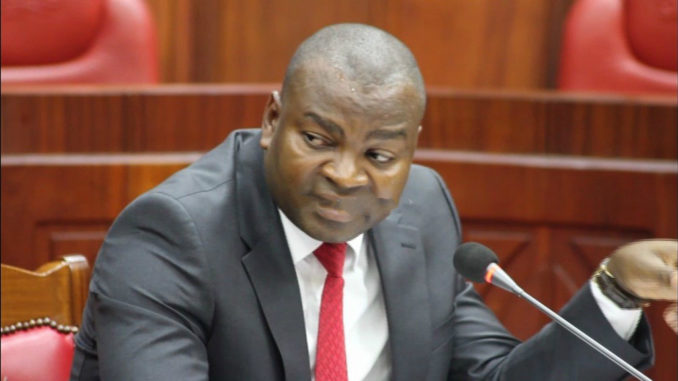 Barely half an hour into his grilling by the Parliamentary Committee on Appointments, Sports Cabinet Secretary nominee Rashid Achesa was already wiping off sweat as he was put on the spot by members to prove why he is the right man for the post.
Achesa, largely unknown in the sports field was nominated by President Uhuru Kenyatta to take up the post vacated by Hassan Wario who has since been nominated as Kenya's ambassador to Austria.
The former Party of National Unity (PNU) Western region coordinator and Orange Democratic Movement (ODM) national youth leader affirmed while appearing before the committee on Friday that despite his short stint as a sportsperson, he has the ability to ably lead the ministry.
"Being a former sports person I have worn that shoe before and I know how it fits and how it pinches. I understand the challenges sportsmen go through in this country,"
"What I can assure Kenyans is that through the skills I have acquired by being the coordinator of PNU and youth chairman ODM as well as running a company, I will inject same skills to turn the sports ministry around," Achesa said when asked by Speaker Justin Muturi why he feels he is the man for the job.
Achesa has had a bigger career in politics than in sports administration.
He has however told the committee that away from his active days as a boxer with the Mumias Boxing Club and the Kenya Prisons Boxing team, he has been involved as the patron of the Western Kenya Boxing Association as well as Kenyan Premier League side Kakamega Homeboyz.
Though vague in his responses on how he will restore administrative excellence and reduce corruption in the ministry, Achesa hinted that as the new Sports Ministry boss, he will look to work with county governments and at constituency level to improve talent tapping.
This, is a song sang often, but never quite implemented by those who came before him.
"I will make sure we have 47 academies in each of the counties in collaboration with county governments to ensure we nurture talent from grass-root so that we have a stronger national team and in the end improve sports," noted Achesa.
In relation to Kenya's miss to host the African Nations Championship (CHAN) which has just ended in Morocco, Achesa said to avert a similar blip, he will source for funds from the national government as well as the private sector to ensure stadia are ready in time.
If approved by Parliament. Achesa will have a tough time putting together a ministry that was dogged with baggage during Wario's five year tenure, from Kenya's fight with the World Anti Doping Authority, alleged mismanagement and underfunding of national teams and the most recent one, Kenya's miss to host CHAN. Source: Pocket News