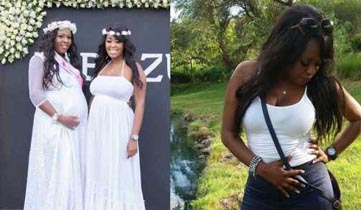 Popular Kenyan TV siren Lilian Muli has sent her fans on overdrive with speculations on her baby's gender after she posted a pair of red toddler shoes.
In the post to her over 180,000 followers, Muli posed that the red bottoms were suitable for all parents with baby girls out there.
This was immediately picked out by some of her fans that she was revealing her baby's gender after it emerged that the veteran Citizen TV journalist was expectant.
In response to one of the curious fans, however, Muli stated that she just thought the red shoes were cute and nothing more.
Last month, the Nairobian revealed that the flamboyant Shabana FC football administrator Jared Nevaton is Lilian's baby daddy.
Speaking from London at the time, Nevaton remarked that indeed he was responsible for the pregnancy putting to rest speculations on social media over the matter.
"Yes. When your wife gets pregnant does one ask who the father is? We are very together (sic). This is very personal information. I am out of the country in London but let's have lunch when I come back."
Here are some of the comments on Lilian Muli's red bottoms post….
Horlicweenie She must be a girl
Mwendebubbly This are Cuuute, baby fever just checked in.
SusasndanuLilmuli I love you girl hope you get a girl mine is past the age
Doriswanyoike@grogitto check this out it's lovely
Grenisanundawaooooo it's a baby girl @lilmuli
Annemumbiwarui Where do I get a pair?
Lilmuli@annemumbiwarui must order online dear ebay or amazon
Catie.just Am a Mum of 2 girls got to check me out too @catie.just
Annemumbiwarui@_kamiyk this would be for our little one @wathanuwarui
Vinitaotieno@lilmuli does this mean what I am thinking?
Lilmuli@vinitaotieno nope I just thought they're cute
Damarisjey@elzymwenje check this for princess
Fatuomakeupartistafrica Maashallah a girl
Syombuaosiany *Winks*